If you're considering new doors, should you choose a style that has the blinds already built in?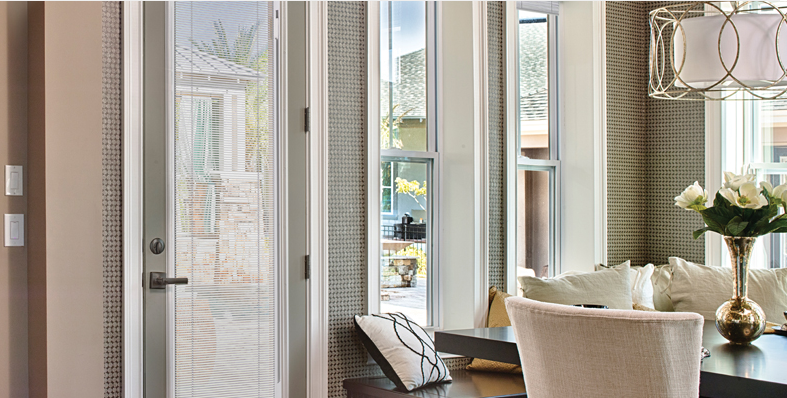 Although doors with built-in blinds (also known as integral blinds) have been around for decades, they've had a surge in popularity in the past few years. This integral design offers a host of benefits to Utah homeowners, but they have a couple of drawbacks too.
The Facts About New Doors with Built-in Blinds
Several door manufacturers offer the option to add built-in window coverings within the glass panes of patio and French doors as well as entry doors.
Some designs have manual operating controls while the more high-end models have mechanical controls. You can choose from a variety of materials, including vinyl, wood, wood clad and composite.
These designs have all the design choices you will find in a regular door, including your choice of colors, finishes and hardware.
Pros of New Doors with Blinds Between the Glass
The biggest benefit our customers notice is that you'll never have to dust or clean your blinds – which is a biggie for many homeowners. Because dust and debris can't build up, many customers report an improvement in their allergies too.
These designs are also totally kid- and pet-safe, as you'll have no dangling cords they can get tangled up in. The mechanisms that operate the blinds are easy to use, so opening, closing and tilting the blinds is a breeze. Many homeowners love the sleek look of integrated window coverings, particularly the absence of unsightly, tangled pull-cords.
Because the window coverings are safely protected between the panes of glass, they also offer a high level of durability and a long life.
Cons of New Doors with Internal Blinds
The most obvious drawback of this design is that, if you want to replace them with a different type of window covering – or if the blinds break – you might have to replace the door. A few styles do have a removable glass pane that allows for repair or replacement, but not every manufacturer offers these. Fortunately, the manufacturers represented by Rocky Mountain Doors & Windows all provide a comprehensive warranty for their products.
Doors with blinds between the glass also tend to be less energy efficient than standard dual-pane glass doors. This is especially true for those that provide a way to access the inside – which means these integral blinds can also accumulate some dust.
Manually controlled designs tend to be more reliable than the mechanically operated models, simply because the mechanical styles have more moving parts and pieces that could fail.
You can browse some new doors with blinds between the glass from Therma-Tru and this wood sliding patio door with built-in blinds from JeldWen.
If you're interested in learning more about these and other options, contact the Rocky Mountain Windows & Doors team today. We offer a comprehensive line of new and replacement windows and doors for customers throughout Utah. We look forward to helping you select your new doors with blinds between the glass, or whatever options you prefer.