For new or replacement use, interior barn doors in Utah are among our favorites for residential and commercial door innovations because they remind us of the French doors we fell in love with more than a century ago.
Space-saving room dividers that double as a design element in your home, sliding barn-style doors are ideal for today's home designs and space-starved families.
Rocky Mountain Windows & Doors is proud to offer the TruStile® Driven by Design® line of interior barn doors in Utah. With over 500 different designs to choose from, you are sure to find several that will enhance the style and function of your home's interior.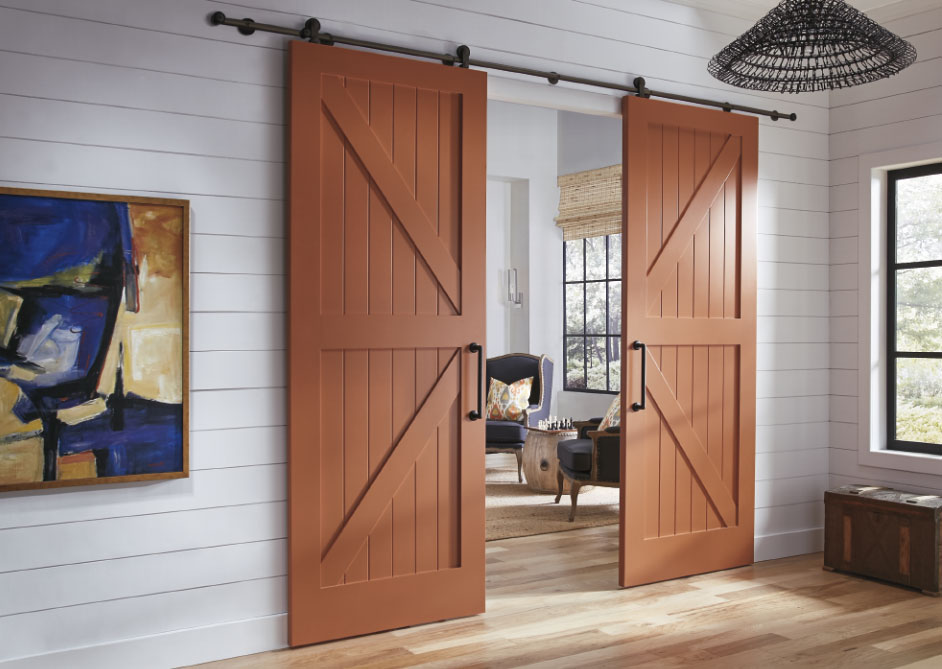 Types of Interior Barn Doors
Architects and interior design professionals began using barn-style doors in home designs in the mid-2000s. At that time, many homeowners expressed interest in this design. However, door manufacturers, not anticipating the huge demand for these versatile design elements, had yet to launch consumer barn-style door lines.
Today, you can choose from modern, Craftsman, rustic and traditional styles. Material options include budget-conscious MDF and stain-grade wood. Choose glass, mirror or leather inserts and add glass to let the light shine through.
And if you believe that sliding barn doors are purely for the rustic home vibe, you'll be delighted with the sleek contemporary, Craftsman and modern options available today. Call us, and we'll help you find and install the perfect barn door for your home.
Interior Barn Door Uses
Anywhere you want an interior door in your home, you can use a sliding barn-style door.
Designers feature them as a focal point in the home, using them for master bedrooms and bathrooms, closets, home offices, media rooms, kids' playrooms, laundry rooms, pantries and more.
One of the most creative ways we have used these versatile interior doors is above the fireplace to mask a flat screen TV when not in use. Other creative homeowners use them to cover bookcases or as window coverings.
You can select a single door that slides in one direction to reveal the opening or double panels that side individually from the center outward. For the sliding rail hardware, you can choose steel or wrought iron tracks in the weight and profile that matches your décor style or, if you prefer not to see the rail, you can mask it with a trip strip.
Are Interior Barn Doors Right for You?
The only consideration when choosing whether to install interior barn-style doors in your home is the space required for the sliding rail system. The rail length is approximately two times the width of the panel. This allows it to slide far enough to the side to fully reveal the opening.
But, because sliding panels don't require a wide berth to swing open and closed, they take up zero floor space. In fact, you can slide them behind your furnishings. They are perfect for use in either new construction or replacement applications.
In Utah, Rocky Mountain Windows & Doors provides doors, windows and skylights for new construction as well as replacements. Contact us today for more information about adding interior barn doors to your home.
Call us for your door installation and replacement needs.
View the Glass Craft interior barn door catalog here.