Aluminum clad exterior doors are a dream come true for homeowners who don't want to hassle with maintenance issues – especially if you are also budget-minded.
These doors are perfect for new or replacement patio doors. You can choose from standard French doors, slide-a-way patio doors, fold-a-way or sliding patio doors. And, if you find an aluminum clad door style you can't live without, you can also choose coordinating windows to complete your window and door package.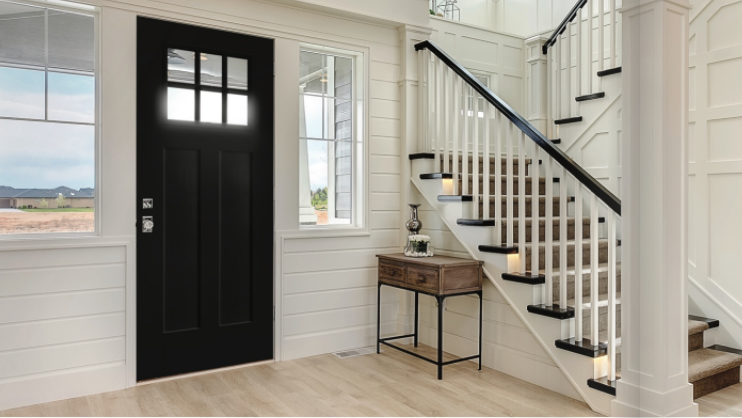 What Are Aluminum Clad Exterior Doors?
Aluminum clad doors are wood doors that have a high-quality aluminum coating on the exterior face.
On the inside, you can enjoy the natural beauty and warmth of a solid wood product. On the outside, however, you have aluminum cladding to protect the more vulnerable material underneath.
At Rocky Mountain Windows & Doors, we are proud to offer the Lincoln Windows Distinction Collection, rated highest for structural performance, offering superior strength and rigidity for standing up to all of Northern Utah's most demanding weather conditions.
Benefits of Aluminum Clad Exterior Doors
These exterior designs offer virtually nothing but benefits. They are cost-effective, stylish, durable, low-maintenance and energy efficient.
With an architecturally appealing look and feel, aluminum coated wood designs work well with virtually any design type, from contemporary to old-world. The material lends itself very well to dimensional freedom, allowing you to design virtually any configuration that works for your home.
Aluminum exterior designs also provide a high level of thermal performance with minimal maintenance. Simply hose them or wipe down with soapy water on occasion.
Aluminum Clad Patio Doors Options
As Lincoln Windows is proud to say, you can select aluminum coated exterior designs in virtually any color.
In fact, Lincoln offers the Distinction Collection with eight standard colors, 38 Feature colors, seven spray-on anodized colors and – unlimited custom colors, blended to your specification.
You can see all the aluminum exterior color options here.
As for the interior, you can choose your wood species, including alder, mahogany and cherry wood. You can request to have the interior face left unfinished and ready for your stain of choice, or you can have it primed for paint or pre-finished.
Perhaps our favorite option is the brickmould trim and casing choices. These trims are factory-applied and bring a truly custom level of architectural detail to your home's design. For the interior, you can choose from mull casings, jamb extensions or even square glazing bead for a streamlined, modern design.
In Utah, Rocky Mountain Windows & Doors is proud to be the representative for all of the Lincoln Window & Patio Door products. Contact us today for a complimentary site visit and estimate for your new or replacement aluminum clad exterior door package.