In Utah, Craftsman style entry doors bring a welcoming, stylish note to your home's exterior.
The Therma Tru Classic-Craft American Style door series captures the true essence of the Craftsman design style. At Rocky Mountain Windows & Doors, we are proud to offer this durable, affordable architectural door line to our customers in Salt Lake City and throughout northern Utah.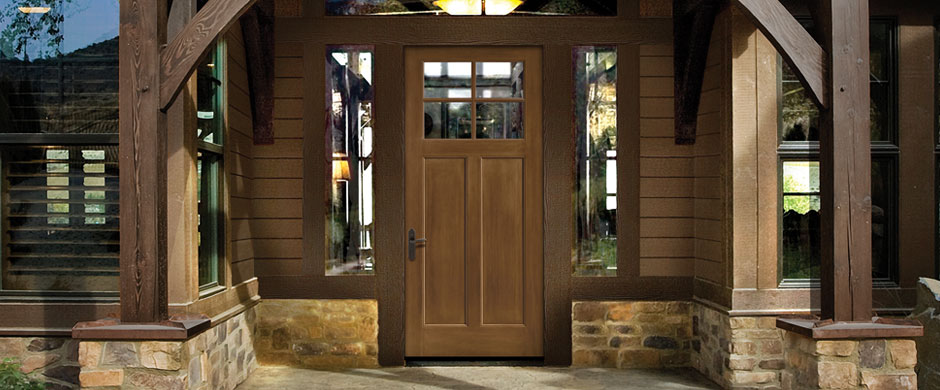 What Are Craftsman Style Doors?
The American Craftsman style, also known as the Arts and Crafts movement, is a design philosophy that emerged in the late 1800s. This clean, elegant design style gained popularity as reaction to the overly fussy Victorian styles that preceded it.
Known as a design ethos that spoke to the emerging middle class, the Craftsman style remained consistently popular over time. Frank Lloyd Wright is known as one of the leaders of the modern American Craftsman movement.
This design style enjoyed a resurgence in the architectural design field in the 1990s. Today, the Craftsman design style is particularly popular in Utah, where it fits well with our region's natural landscape and lifestyle.
Craftsman entry doors feature glass in the upper third of the door with flat wood panels on the bottom. Bisecting the top and bottom sections is a thick, horizontal molding. Glass may be leaded, stained or clear, arranged in a single pane or multiple, smaller pane configuration. Transoms and sidelights are also common in this door style.
Craftsman Entry Door Options
Therma Tru offers a variety of in-demand options, allowing you to customize your entry door in virtually every way.
Made of durable fiberglass with AccuGrain technology, the Classic-Craft line features the beauty of Douglas Fir grain. You can select from six configurations and five unique door styles of 2-panel flush, glazed doors with a single lite, 2-, 3-, 4- and 6-lite doors.
You can choose from eight different glass styles, ranging from clear to leaded-look styles. Choose a stainable style in mahogany, light oak, cherry, walnut, natural oak, cedar or walnut. Or you can select a paintable finish and customize the finish to match your home's existing color palette.
Oversized Craftsman Style Doors
The standard Classic-Craft door height is 6'8", however, you can choose the oversize 8'0" option for a more substantial look and feel. You can design your entry with double 3'6" width doors or with a single door flanked by sidelights. You can also add an optional 4- or 16-block dentil shelf for even greater authenticity
Add a transom, and you have a truly customized front entry that makes a bold statement while increasing the value of your home.
Rocky Mountain Windows & Doors is Utah's premier supplier of new and replacement doors, windows and skylights. Contact us today to learn more or request an estimate for your Craftsman style door.