The convenience and versatility of folding doors – also known as bi-folding exterior door systems — are eclipsed only by the beauty and style they bring to your space.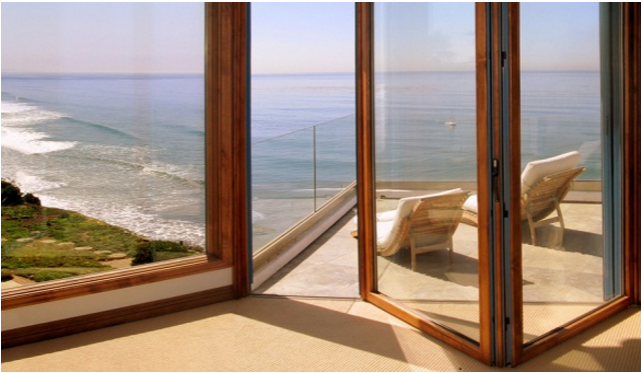 As an alternative to pocket or sliding doors, folding door systems are a perfect option for both large and small openings, allowing you to enjoy natural light and expansive views. And, when you're ready to remove the barrier separating inside and out, these innovative systems fold quickly and simply out of the way.
How Folding Exterior Doors Operate
Using a single, unobtrusive track, as many as ten panels can be used to span even the largest openings.
The weight of folding door systems is carried on the upper track, making the system extremely easy to operate. The bottom guide channel is available as a low threshold was well as with a fully recessed option, for a truly seamless and safe transition.
When in its stationary position, a designated single panel functions as either an interior- or exterior-swing single-lite door.
To open the entire folding door system, simply release the vertical bolts by tapping the lever-style handle and slide the doors away. Because the weight is so evenly distributed above, you can dispatch an entire panel set with two fingers.
Choosing the Ideal Folding Door Design
Most folding door systems can range from two to ten panels and custom options allow for a height of up to 12 feet.
Whether you prefer aluminum, vinyl, wood-clad, hybrid or real wood folding doors, we represent a variety of the best manufacturers available today. You can choose from Jeld-Wen, Panda Windows and Doors, Win-Door Systems and more.
Factory stain and paint color choices are available to enhance any architectural and interior décor styles, or you can select paint-grade options to complete your own finish. Handles, locksets and integral hardware can be customized to your preference. You can select tinted or textured glass and decorative accents including molding and custom carving.
Ensure Comfort and Save Energy with Folding Doors
Our clients commonly express concern about using vast expanses of glass, and how it might affect comfort and energy use.
Today's advanced folding door designs are engineered to ensure the interior comfort of your home or business. You may also choose Low-E insulating glass options and ENERGY STAR® certified glass, to provide greater comfort and energy savings. Some of our manufactures offer thermal break options, to provide an even greater level of temperature insulation.
If you prefer the simplicity of integral blinds and shades, sandwiched between each door panel's layers of glass, we have many designer options. Integrated window coverings require no cleaning or maintenance and – because they remain dust-free – improve the quality of indoor air.
In Orem, Utah, Rocky Mountain Windows & Doors is a premier provider of exterior door systems of all types, both new and replacement. We also offer new and replacement windows and skylight systems for customers throughout Northern Utah.
Contact us today to request your complimentary quote for any of our available door and window systems, including exterior folding door systems.