Arched windows, along with radius, round and other specialty shapes, are used frequently in today's Mountain West architecture.
With a clean and classic style, these designs elevate your home's value and appeal – inside and out. Today's technology allows for unprecedented flexibility in shape and size. And, as every window we sell is measured and manufactured specifically for your project, you will enjoy maximum appeal and function.
Arch Window Shapes and Styles
Today's homes are designed with higher ceilings and more open space. Specialty windows, including arched and radius top models, are ideal for utilizing extra wall space to capture sunlight and mountain vistas.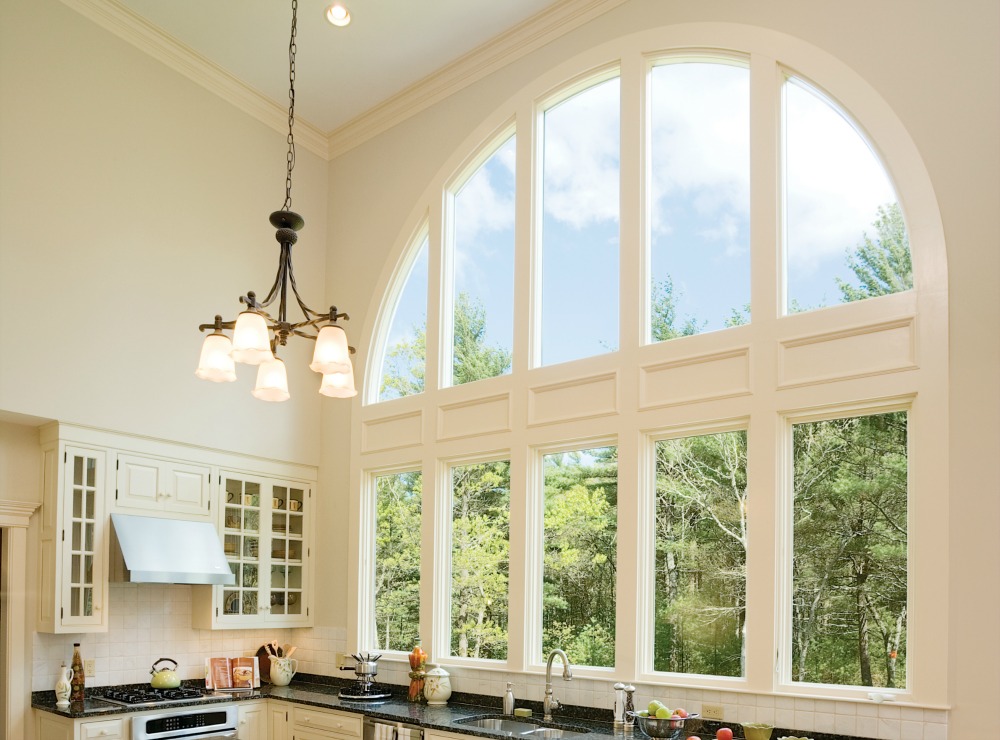 In addition to the classic arched top design, you can select from a variety of other shapes. Jeld-Wen offers a selection of fixed round windows, half-circle and octagonal shapes in vinyl, wood and aluminum materials.
The Lincoln Windows Specialty Series features distinctive curved and elliptical shaped options. Available in direct-set and sash-set designs, Lincoln can also create custom windows for any application. Hardware options provide greater design flexibility while ensuring your safety and security.
Arched & Radius Casement Windows
Today's radius and arch windows are available with a variety of functional and operable options.
For example, the Milgard Essence Series includes dramatic radius casement windows. Solid wood with a revolutionary phenolic cladding on the exterior, this series is available with both arched and round tops. The phenolic exterior is extremely durable and maintenance-free, while allowing for shapes not previously available with fiberglass cladding. These designs are operable, and function just like standard casement windows do.
Casement designs are available in sizes ranging from 24 inches to 84 inches in height, making them appropriate for any location in the home. The Essence Series offers 16 enduring exterior color options to enhance your home's color scheme. You can also choose from eight unique glass patterns or add grids to further elevate the enhance your home's architecture.
If you prefer a double-hung style, those options are also available, in a variety of finish colors and materials.
Add Light & Comfort with Arched Windows
Arched windows bring beauty and style to your home and while bringing in the splendor of the outdoors. This provides an ideal solution for improving the interior environment with natural light without compromising comfort.
High-efficiency glass options ensure that generous natural light doesn't compromise interior comfort by limiting heat transfer.
With almost unlimited flexibility in size, shape and functionality, specialty designs provide exceptional value for both new construction and replacement windows. High-quality construction ensures that your new windows will look like new for decades, providing maximum protection for your home while requiring minimal maintenance.
In Utah, Rocky Mountain Windows & Doors sells and installs the finest new and replacement windows, doors and skylights. Contact us today to request a complimentary consultation and estimate for specialty shapes and arched windows.