Wood-clad windows offer all the benefits of wood windows combined with the exceptional strength and durability of aluminum, fiberglass or vinyl. Their durable, long-lasting beauty requires almost no maintenance whatsoever.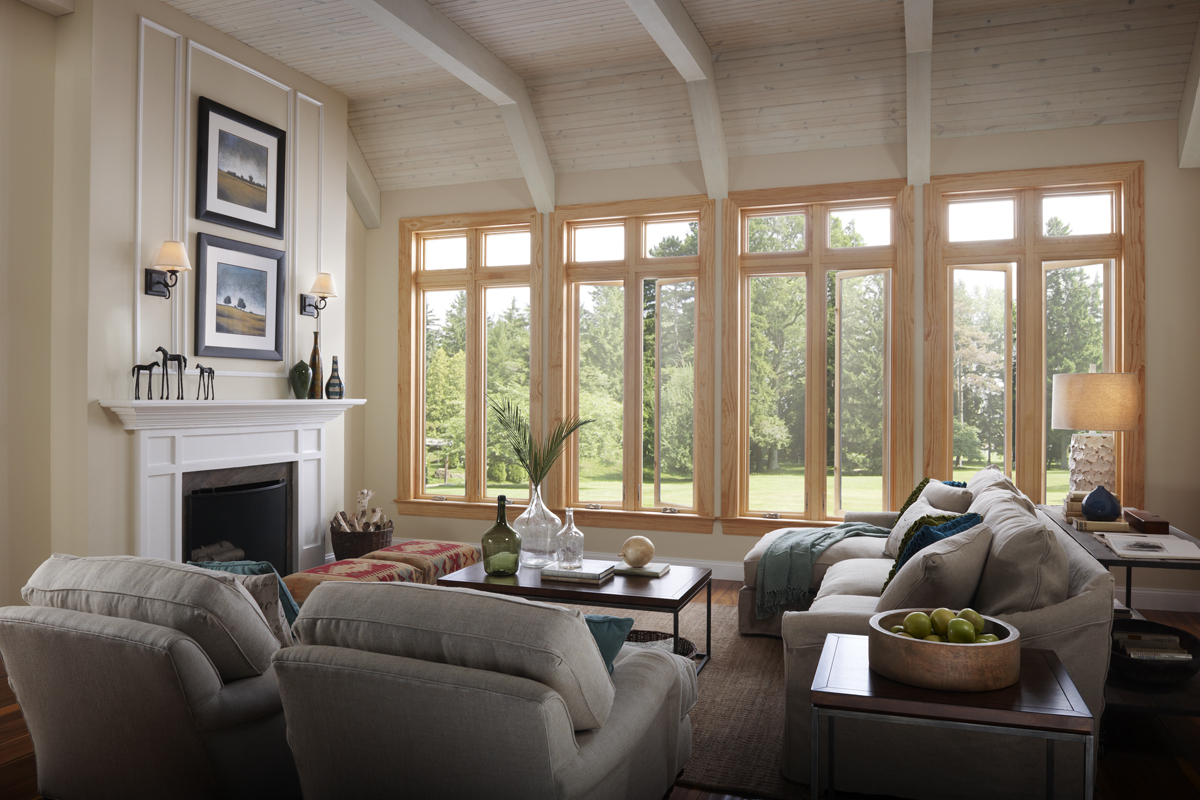 Sometimes referred to as aluminum-clad wood or aluminum-clad windows, this design uses a solid wood core wrapped in durable aluminum (or, in some cases, fiberglass or vinyl) on the exterior.
Benefits of Wood-Clad Windows
Wood-clad windows offer a unique combination of functionality, beauty and value.
As a window material, wood is strong and light while offering a high level of insulating value. Above all, however, wood windows are visually impactful. To compliment your home's design and your personal preferences, you can select from an almost infinite variety of color and finish options.
And, thanks to the exterior cladding, these wood windows are highly durable and long-lasting. The aluminum or fiberglass-clad exterior stands up to the elements year after year, decade after decade.
And, thanks to significant improvements in exterior finish technology, the color won't fade, crack, peel or turn chalky over time.
New Wood Windows
Whether you are building the custom home of your dreams or planning an addition to your existing home, new wood-clad windows are the perfect way improve both value and curb appeal.
We represent some of the finest window manufacturers and brands available in Utah, including the extensive Milgard, JELD-WEN and Lincoln product lines. You can select from the many designs, colors and trim options, and each of your windows will be fabricated to the exact size and specifications you need.
In addition to selecting your exterior finish, you also have a variety of interior finishes and stains to choose from.
As for shape and configuration, you are limited only by your imagination. You may select from casement and picture styles, double-hung, horizontal sliding, awning and radius designs.
Replacement Wood Windows
A full window replacement is one of the most important and cost-effective upgrades you can make to your home.
Replacing your existing windows will improve the visual appeal of your home, both inside and out. And, should you chose to sell your home in the future, new wood windows are at the top of every potential buyer's "must have" list.
You will also save substantially on your power bills while reducing your home's environmental impact.
Thanks to today's technology, your new windows will be built from energy-efficient components that minimize conductivity. This advanced level of insulating capacity improves the comfort and livability of your home while helping to reduce energy consumption
If you select replacement aluminum-clad windows with the Energy Star® designation, you may qualify for rebates or incentives offered by your local utility company.
In Orem, Utah, Rocky Mountain Windows & Doors is proud to offer these in-demand window designs to customers throughout Northern Utah. Our superior customer service and fair pricing have earned us an outstanding reputation. We look forward to helping you with all of your Utah window and door needs.
Contact us today for a complimentary estimate for your new or replacement wood-clad windows.