Copper clad windows have been used for thousands of years to enhance homes and public buildings. What makes copper clad windows so popular is more than just their aesthetic appeal; they are also highly durable, easy to maintain, and are the perfect material for environmentally-conscious builders as copper is 100% recyclable, and copper clad windows can be made with energy-efficient glass.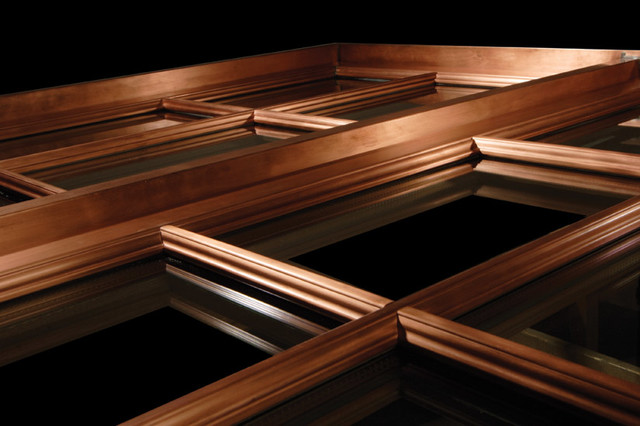 Copper Clad Windows Require No Maintenance
Builders and homeowners prefer copper as a building material because it almost never requires cleaning or maintenance. If your copper clad windows could use a polish to remove dust or dirt, there's no need to spend money on special solvents or cleansers that may cause damage. A quick wipe with a mild soap and cold water are all you need.
Copper Is a Superior Building Material
It's hard to beat copper when it comes to durability and longevity. This metal develops a protective patina over time as it undergoes its natural oxidization process. Under normal conditions, copper resists corrosion, making it one of the most preferred metals for builders.
Copper Increases a Building's Value
There's a richness to copper that is immediately identifiable to home buyers. If you're considering putting your home up for sale, copper clad windows are a smart upgrade. They will instantly increase curb appeal for potential buyers who appreciate the longevity and intrinsic value of copper.
Copper Enhances the Look of Any Home
You can't deny the allure of copper for its warmth and appeal. Its earthy tone complements other natural building materials like wood, glass and stone. Although copper's most identifiable shade is a rich metallic reddish-brown, it can be altered with mechanical surface treatments, coatings or chemical coloring to produce a wide range of colors without compromising its strength and durability.
Copper is a Sustainable Material
Builders and homeowners with a commitment to reducing their carbon footprint will appreciate the sustainability of copper, which is 100% recyclable. What makes copper highly sustainable compared with other metals and alloys? Beyond its natural durability and minimal maintenance requirements, copper has anti-fungal properties that protect wood; it's also incredibly efficient as an electrical conductor. For all these reasons, copper is a sought-after resource with a high scrap value, and it can be recycled many times without reducing its longevity.
Interested in Installing Copper Clad Windows?
If you're considering copper clad windows to enhance your home or building project, it's important to work with a professional window installation service as a lack of knowledge and experience can lead to costly mistakes, and ultimately, disappointing results.
The most common problem with installing copper clad windows is a poor seal at the joints. Water can then become trapped between the wood frame and metal cladding, which creates a destructive chemical reaction.
Contact Rocky Mountain Windows & Doors to help upgrade your home, improve its exterior beauty and increase its market value with high-end copper clad windows.